Wow - *really* slow updates!
Well, one main reason - and I wouldn't trade her for anything:)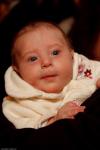 The site's userbase is still alive and well, and we're visited by several thousand of you each day, but updates by me have been slow, since I'm welcoming my baby girl to the world:) We'll still be out and about, but expect us at mostly outdoors events or really special parties...
This site has always meant to be a community effort (and provided a host before the Facebook's of the world) - and is always open to new photographers. If you're interested in posting your pictures on here, contact me at mark [at] mvgals [dot] net.
Slow blog updates
I've been slow updating this section, mainly because of facebook, etc (You can connect to me here on facebook
But WOW does SF get busy in the fall.. Burning Man, LovEvolution, Burning Man Decompression, Halloween. (whew..)
djmag.com article
Over this past summer, the Opulent Temple was visited by the editor of dance music's biggest publication in the world - DJ Mag. She ended up writing a 6 page feature article that appeared in the recent Top 100 issue, their biggest issue ever. Several pictures from MV Galleries were used in this article. You can now read the article online here.